Marine Production Models and Circular Economy Collaborative Learning
• Purpose: Taiwan is blessed with a bountiful marine ecosystem containing many natural resources, including many yet to be discovered with full of opportunities. However, current wasteful production models have created global harm to property, economies and even lives. Humans must immediately start using our combined wisdom and technology to overhaul the way we exploit natural resources so that we may achieve a sustainable circular economy and a healthier planet.
• Objectives: The course will imbue students with knowledge of both marine science research and product development in collaboration with the faculty members from the departments of marine biotechnology and resources, biological sciences, political economy, and business management, as well as teachers from Kaohsiung Medical University and the National Museum of Marine Biology & Aquarium. It is hoped that in the future students and teachers may collaboratively brainstorm and develop sustainable marine production models and create a circular economy.
• Principal instructors of each micro program:
üMarine Microorganism Applications: Professor Liang-Chun (Mark) Wang, DMBR, ext.5035
üMarine Biological Resources and Practical Applications: Professor Shang-Yin Vanson Liu, DMBR, ext. 5024
üMarine Natural Products: Professor Jing-Ru Weng, DMBR, ext. 5026
üBiotechnology: Professor Hsin-Yuan Tsai, DMBR, ext. 5031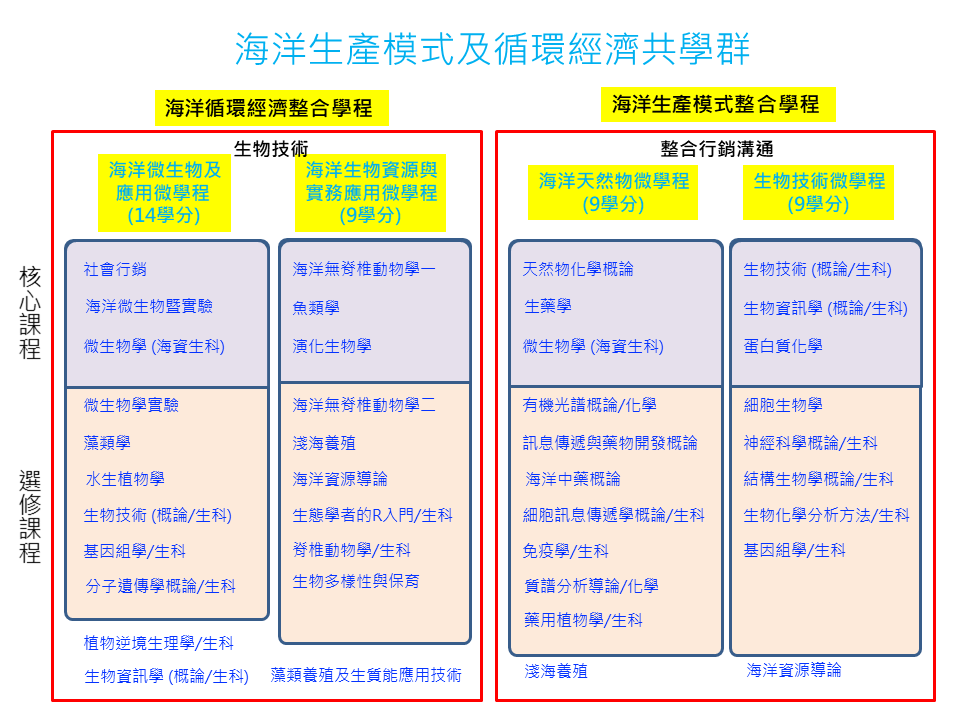 • Course Type: Professional Program
• Purpose: This program is based on the ideas of sustainable use, local heritage, and cross-border innovation. It is intended to take Taiwan's ample biodiversity together with local geographical features and apply them with modern biochemistry and molecular-biology-based biotechnology. Interdisciplinary studies will follow the sustainable standards and practices of medical biotechnology, green energy technology and marine antifouling, allowing Taiwan's unique resources to be used sustainably. We cultivate talent in the field of sustainable marine bioresources development by cooperating with relevant domestic and international industries, and provide industry training and instruction from industry veterans.
• Objectives: The course will cross the imaginary gap between ocean and industry in students' minds and enhance relationships between industry and academia. Students will acquire basic knowledge of biochemistry and molecular biology, fostering their ability to learn interdisciplinary subjects such as biopharmaceutical development, transgenic green energy, and marine antifouling. They will learn professional knowledge from basic biological ecology to modern biochemistry and biotechnology. The program combines academic knowledge with the practical knowledge of veterans throgh hands-on and experimental lessons, which improve their expertise and experience.
• Completion Requirements: Core courses: 10 credits; Electives: 12 credits
• Principal instructor / Phone number: Professor Chih-Chuang Liaw, DMBR, (07)5252000 ext.5058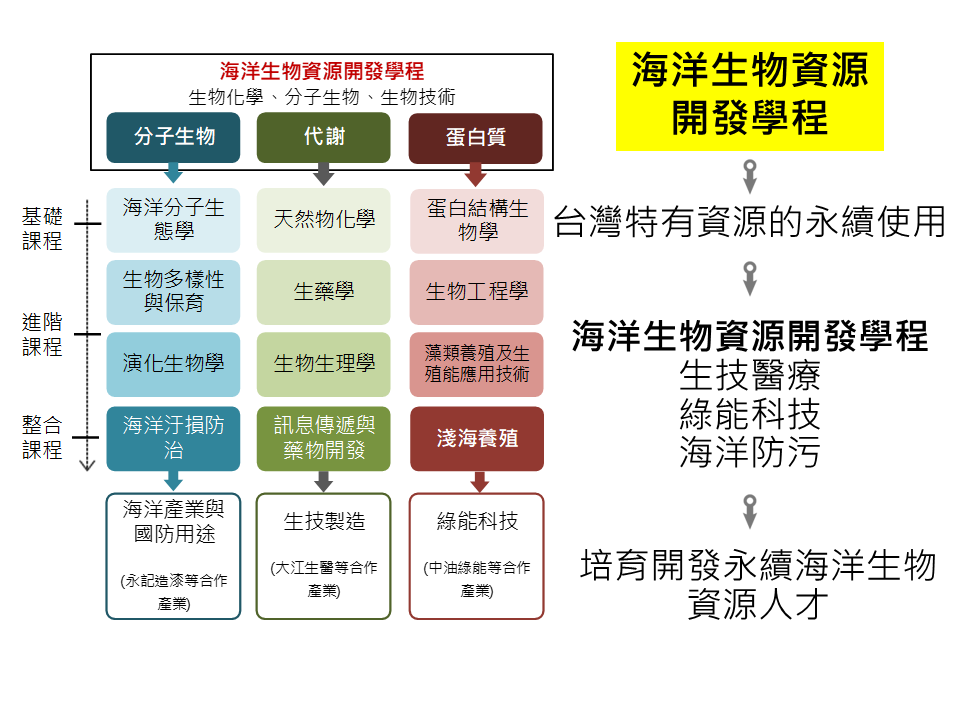 Marine Biological Resource Development Course Plan
Opened by (Department)

Course Title

Credits

Notes

Core Courses

Marine Biotechnology and Resources (DMBR) / Biological Sciences (DBS)

Molecular Biology

3

Marine Biotechnology and Resources (DMBR)

Molecular Biology Lab.

1

New

Marine Biotechnology and Resources (DMBR)

Natural Product Chemistry

3

Marine Biotechnology and Resources (DMBR) / Biological Sciences (DBS)

Bioinformatics

3

New

Core Courses (Professional Module Course): 10 credits

Electives

Marine Biotechnology and Resources (DMBR)

Biotechnology

3

Biological Sciences (DBS)

Biotechnology Lab.

1

You may choose it or Molecular Biology Lab

Marine Biotechnology and Resources (DMBR)

Marine Molecular Ecology

2

Marine Biotechnology and Resources (DMBR) / Biological Sciences (DBS)

Biodiversity and Conservation

2

Marine Biotechnology and Resources (DMBR) / Biological Sciences (DBS)

Evolutionary Biology

2

Marine Biotechnology and Resources (DMBR)

Marine Antifouling

2

New

Marine Biotechnology and Resources (DMBR)

Pharmacognosy

2

Marine Biotechnology and Resources (DMBR)

Signal Transduction and Drug Discovery

2

Oceanography (DO)

Physiology of Marine Organisms

2

Marine Biotechnology and Resources (DMBR)

Special Topics in Medicinal Natural Products

2

Marine Biotechnology and Resources (DMBR)

Protein Chemistry

3

Marine Biotechnology and Resources (DMBR)

Bioengineering

2

New

Marine Biotechnology and Resources (DMBR)

Agal Cultue and Bio-Energy Application Technology

2

Marine Biotechnology and Resources (DMBR)

Mariculture

2

Resume Class

Total Credits: 22 Credits